Dr. Louis' newest start-the-year video
Dr. Louis provides a flipped introduction to students regarding the color-coded JSWP terminology of writing an academic body paragraph for the Expository/Informational mode of discourse.

Options for Implementation:

Watch the video and teach the lesson yourself.
Team teach with Dr. Louis. You teach, she teaches, it's a collaboration!
Great for absent students to view and follow when they return to class.

Popular Workshops & Live Webinars
Since 1984, the Jane Schaffer Writing Program® (JSWP) has been providing professional development for school districts and campuses across the nation. Interactive and focused on pragmatic teaching environments and productive coaching techniques, the JSWP team of experts model Jane's methodology and then guide teachers to write and practice the skills they have just learned while instructors answer questions and differentiate for special populations, just as we all do in the classroom with our own students. Teachers apply their understanding of combining details and analysis in order to produce effective paragraphs and essays. We believe in the gradual release of responsibility approach to teaching as the best way for teachers and their students to master the concepts in the Jane Schaffer Writing Program.
You may select from successful and updated modules or work with our staff to customize workshops, webinars, and job-embedded demonstration models. We provide single trainings or a continuous cycle of learning for your staff.
Click Here To Download the 2019-2020 Schedule
This Month's Featured Guide
Use coupon Code FEATURE for 25% Off
Beloved
by Toni Morrison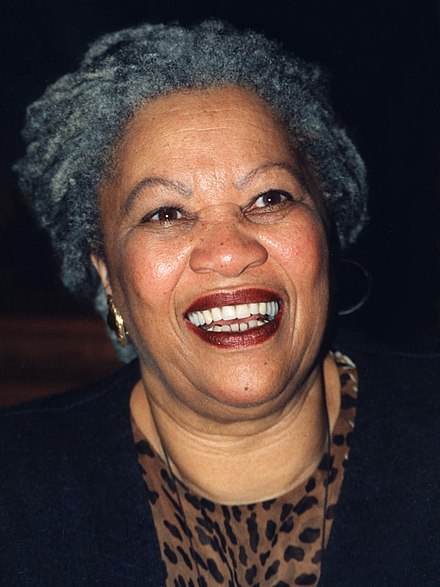 This curriculum unit includes tested and proven materials for teaching BELOVED to high school students. We have developed it to offer other teachers a sample plan that introduces students to a contemporary novel written by a Pulitzer Prize-winning author. Toni Morrison's book tells of the traumas of slavery and the influence of the past over the present and future. After talking to various historians, Morrison decided to dedicate her book to the "Sixty Million and more," the most accurate accounting she found of the number of slaves who died as captives in Africa or on slave ships.
You will notice that the sample time line suggests a six-week unit. We have found that BELOVED is not a book to be read quickly or easily without ongoing discussion in class. Students have said they found it helpful to read it in parts and discuss each section before continuing. Unlike some novels where students can easily finish the whole book before beginning class discussion, this one has worked better with a slower treatment and clarification of the plot sequence and events. This is the format that we recommend the first time the novel is taught, but we have seen it done in a variety of other ways.
This brings us to one final comment: this unit is very flexible. We offer approaches based on firsthand experience, but we know that there are many other combinations that will work as well. We believe that all teachers adapt ideas to fit their own teaching styles; and this format, like those in all of our curriculum packets, is easily and successfully modified.
Click Here for More Information
Use Coupon Code FEATURE for 25% Off
What Educators Say
How educators respond to Jane Schaffer® professional learning and products
Jill – Seventh Grade Teacher
I have NOT stopped using your stuff since I attended your workshop. It has been so beneficial! Thank you for the work you do!
What I LOVE about it is that I came back from that workshop and have incorporated it EVERY SINGLE TIME we have written. We are reading Tom Sawyer with 7th grade right now and I have just introduced a very simple five sentence paragraph to them that includes a topic sentence, one chunk, and a concluding sentence. They have written some samples on giant sticky notes in groups. Eventually, I will have them doing it by themselves, but they aren't quite there yet. Another thing they did was to write two sentences of commentary for a concrete detail that I wrote for them. Thanks!
Olivia – Second Grade Teacher
My students love your writing method and absolutely love writing in the colors!
Raji – High School Teacher
Thank you for a great time of learning, your workshop provided. I am excited to implement the strategies I have learned, in my classroom , especially in the close reading and deconstruction of assigned readings. I would like to request more materials on close reading strategies if you have them. Thank you once again for your contribution in educating our students.
Joy – English Department Chair
I just wanted to take a moment to tell you again how much I enjoyed the training.
Karen – Ninth Grade Teacher
I was first introduced to  Jane's Program back in 2000, and have been using it ever since.  Whenever I got the chance, I would go to her workshop updates.  
Jane's program is easily adaptable to expand or decrease essay length simply by adding or deleting chunks, CDs or CMs. I love it! And the color coding has always been a favorite component!  I wouldn't have known how to really teach writing effectively without Jane's program.  You see, I only have an English endorsement; my students become great writers not because of me, but because of Jane's technique.  
I am so pleased you are carrying on her legacy.  Her passing was devastating news as she was my greatest mentor, but she never knew it.
Elissa – English Department Chair
I have enjoyed using the Jane Schaffer products for many, many years.  I think my students are grateful for the clear instruction, and I look forward to using more of the writing program in my classes this fall.  Thank you for checking up on us!  I will send any questions your way in the future.
Leah – Secondary Literacy Coach
In a review of the JSWP materials with a teacher yesterday, I was particularly impressed by the sequencing of modeled writing, class writing, partner writing, and eventual independence, and the many tricks you provided to help students as they progress from one level to the next!